Construction PDF Quick Scale, Measure, Take-off, Mark-up and Export Dims to Excel, Estimating Software Tool for the UK
Contractor, Sub Contractors and All Trades & Contractors,
Below is an example of Construction Estimating Software for UK builders and sub contractors in the construction industry.
Builders' Estimating & Measurement software that we have tailored for your business, Construction Estimating and Tendering software
This is gives you a Quick Scale way to Measure and Mark-up from PDF files to provide an Easy and Simple way to print and take measurements from PDF Drawings or images or photo's. These PDFs can be emailed, or reproduced from scanned paper drawings and even photographs saved as or printed as PDF files.

Saving time and money places you ahead of your competition and frees up your time for tender adjudication prior to submitting your bid.

The solution we provide is also cost effective and not the many hundreds of pounds charged by other companys...
But it's not just for estimates it can help reduce the need for endless measurements on site or aid in valuations or variation preparation or checking sub-contractor measures. The Quick Scale function will allow you to measure any distance, perimeter, plan area from a PDF providing you know the scale of the drawing or you know the measurement between two reference points on the drawing, photo or scanned image.

By not having to send your drawings to the printers you will save time and money. You will also have a fully marked-up and auditable record of every measure you complete, which will allow you to forward back-up by email instantly.

It will provide you with files to send to your client as part of your invoice, application for payment, valuation or the like which are quickly checkable, with less to be queried this may also reduce payment delays too...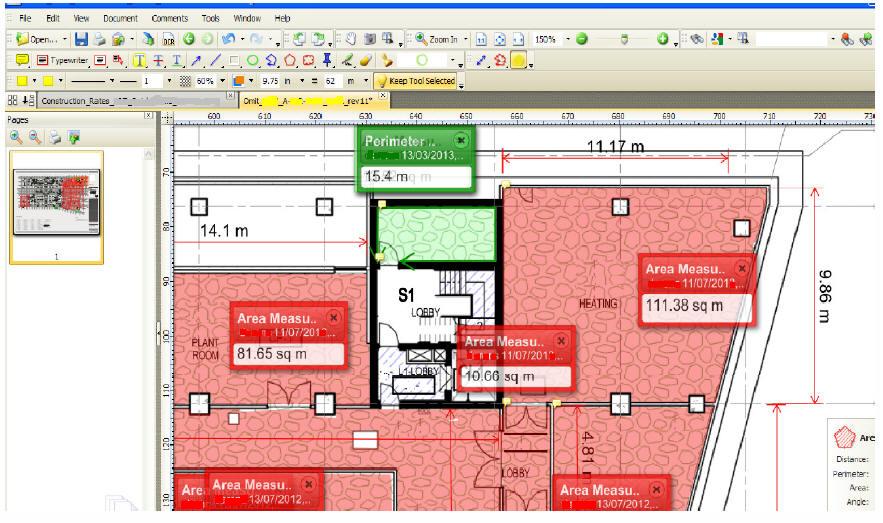 You can also incorporate this PDF Quick Scale and Measurement tool in to our estimating software range of products for the Construction Industry, allow you to quickly flick between pdf drawings export the measured dims for use in the traditional dim sheet with one click dim insertion. Entering the exported data into the 'girth sum' directly speeds up manual take-off much more effectively. The software has been designed to be simple to use and includes the information you need for Check Estimating, Getting Quotations, Blank Bill of Quantities for pricing, Materials Enquiries, Subcontractor Enquiries and Comparisons and Post Contract Valuations of Variations.
The development team have a combined experience of over 100 years and has previously been responsible for producing other industry estimating systems, and they now bring their expertise to this highly functional, easy to use, software which is realistically and affordably priced.
System Requirements are;-
Supports Microsoft Windows 98/ME/2000/XP/2003/Vista/7/8 (x86/x64) Windows 8

Microsoft Excel Full Version.
We like the phrase 'Keep it Simple - Stupid' Our Products keep it simple and Quick, have a

look at the pdf download below to get an idea of how you can speed up your operation...

The powerful and affordable, features available within the product are usually only found in systems costing hundreds or thousands of pounds more.
See our Product Screen Shots Below, Automated 'one click dim extraction page which can be linked to Spec, rates, abstract and billing of our other products also shown below to 'buy now';-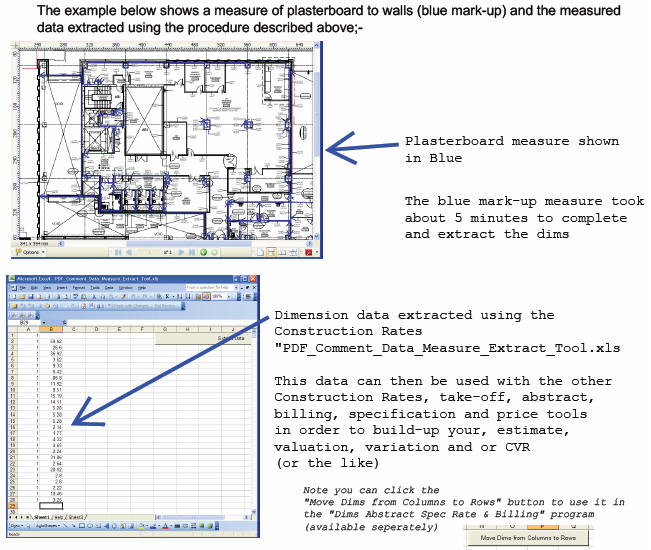 See the Video below showing how quick you can measure and use your dims in Excel, this will also provide you with
a fully auditable mark-up pdf file which you can quickly email as back-up or use for material order, targets or whatever
you like... simple
Most of the industry packages out there cost an absolute fortune - they tie you up in knots with inflexible processes, so why not try one of ours - simple solutions
Why not try one of our Cost Effective Solutions below - so simple - it's easy - Just Click Buy Now
PDF Take Off program to measure and export your dims to Excel, Simply click to mark-up/take-off dims and send to Excel. A quick way to get measured data in to an electronic Excel take-off for estimates, valuations, variations, final accounts or the like, it's delivered by an email download link.
Manufactured by: Construction Rates & Tracker Software
Model: PDF Scale Take-off Mark-up to Excel
Product ID: PDF Scale Version 000.1001.02